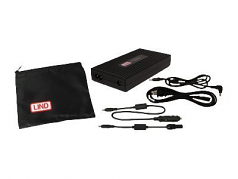 The Lind Auto/Air/AC adapter will power your laptop from an AC wall outlet automobile cigarette lighter socket or an airline seat power plug. This adapter is designed to meet the power specifications of your computer. In addition the adapter has a USB port that can be used to charge devices such as cell phones PDAs digital cameras and more.

Specification:
Power Device Type: Power Adapter
Voltage Output: 20 Vdc
Voltage Input: 11 to 16 Vdc
Width: 5.00 Inch
Depth: 3.00 Inch
Height: 1.00 Inch
Service & Support Type: 1 year warranty
Features: Provides protection against over-voltage over-temperature over-current and short circuits.