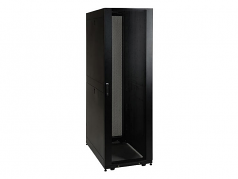 SmartRack enclosures are designed for secure high density server and networking applications in IT environments. Designed with provisions to integrate cooling power distribution and cable management SmartRack enclosures make ideal homes for mission-critical equipment. Vendor-neutral square hole/cage nut mounting for guaranteed compatibility with all EIA-310-D compliant 19 inch equipment. Tool-less mounting slots allow quick installation of PDUs and vertical cable managers. Adjustable mounting rails include an easy-view depth index to eliminate time-consuming measurements. Lightweight modular doors and side panels provide safe convenient service access. Integrated baying tabs facilitate combining enclosures in rows for standard data center baying applications. SmartRack enclosures hold up to 3000 lbs and support cooling cable management power distribution and monitoring features that keep critical servers and network equipment operating nonstop. Perforated doors permit massive front to rear airflow that exceeds servers manufacturer requirements. Enclosures are fully compatible with hot-aisle / cold-aisle data center configurations.

Specification:
Product Type: Smart rack
Width: 23.60 Inch
Depth: 43.00 Inch
Height: 78.50 Inch
Enclosure Color: Black
Service & Support Type: 5 years warranty
Features: Toolless keyhole mounting for PDUs & cable management; Easy indexing system simplifies adjustable mounting rail installation; Split rear doors & new dual side panels perfect for co-location (excluding 25U models); 3000-lb. load capacity.